The bathroom is a room in the home that provides one of the best returns for each dollar invested in renovation. And you can have an updated bathroom without having to spend a lot of money. A new bath vanity will bring style to your bathroom décor, and may provide extra storage and countertop space.
This guide outlines the steps when installation a new bathroom vanity. All you need are basic carpentry and plumbing skills. And if you paint the walls at the same time, you can achieve a stunning transformation.
1. Position the Vanity and Mark Studs
Place the vanity flush to the bathroom wall
Make light pencil marks around the cabinet (top, side, and corners)
Use a stud finder and mark the location of the studs with a pencil (mark lightly right above the cabinet)
Level vanity. If necessary, install shims under the base of the cabinet to make sure it is level.
Measure, mark and drill holes for faucet pipes.
2. Attach the Vanity to the Wall
Using 2-inch dry wall screws, secure the vanity to the wall studs.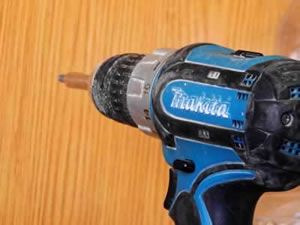 3. Install Faucet
Install and secure the faucet to the sink.
Place a bead of plumber's putty around sink drain, then set the drain in the sink hole and tighten the nut from below. Remove any excess putty.
4. Secure Vanity Top
Dry-fit the vanity top over the vanity.
Make certain the wall is right and there aren't any gaps between your vanity and wall.
Apply a continuous bead of silicone adhesive around the top edge of vanity, then set the vanity top into place.
Check to be sure the vanity top is flat and flush to the wall.
5. Reconnect Water Supply
Reconnect the faucet supply lines to the water supply and reconnect the trap. Use Teflon tape for tight and secure connections.
Turn on the water supply and test for leaks.
Install the pop-up drain.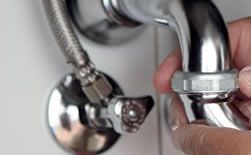 6. Apply a Bead of Caulking around the Countertop
Apply a thin bead of caulk around the countertop edges. Use your fingertip or a damp rag to remove excess caulk.
Tools
Stud Finder
Level
Drill
Screwdriver
Adjustable Wrench
Caulk Gun
Tape Measure
Pencil
Materials
Bathroom Vanity (cabinet, countertop, sink)
Faucet
2-inch Drywall Screws
Shims (if necessary)
Plumber's Putty
Silicone Adhesive
Teflon Tape
Caulk